Experts: UK still heading into recession
City experts are warning that the UK is still heading into recession.
The 0.5% increase in GDP in October does not mean that the downturn has been averted.
Jeremy Batstone-Carr, European Strategist at investment bank Raymond James, says rising inflation and higher interest rates are hitting growth:
"This tentative rebound from sharply falling GDP in September may look like a positive step back toward growth, but we should not get over-excited. Half of September's fall in GDP was due to the one-off bank holiday for the Queen's funeral, so we were always likely to see a correction as the UK returns to regular working days. Today's GDP figures flatter to deceive, concealing an otherwise-shrinking economy.

"The economy is no longer teetering on the edge of recession; it is fully in one. We are now feeling the pain of both relentless inflation and interest rate rises, which are both crippling business and household spending. The Bank of England's Monetary Policy Committee is divided on how sharply to rise base rates, but it looks increasingly likely we will be living with another 0.5% increase by the end of this week."
The rise in GDP in October is a 'false dawn', warns Suren Thiru, economics director at ICAEW (the Institute of Chartered Accountants in England and Wales).
Thiru points out that the Bank of England is likely to raise interest rates by another half a percentage point on Thursday, from 3% to 3.5%, which would dampen growth.
"October's rebound is a false dawn for the economy as it mostly reflects the favourable comparison with September when activity was supressed by the Bank Holiday for the Queen's funeral.

"The positive start to the fourth quarter may not prevent recession with the growing squeeze on incomes likely to drive falls in GDP in November and December, despite a possible boost to consumer activity from the World Cup.

"A half-point interest rate rise on Thursday is expected. However, tightening monetary policy too aggressively could risk worsening the financial outlook for firms and households, and extend the looming downturn."
George Lagarias, chief economist at audit firm Mazars, also fears a 'grim outlook' for the UK economy:
"October GDP grew slightly more than expected, at 0.5%, mostly due to an improvement in retail sales. Today's number does little to change the grim outlook for the UK economy.

Markets still expect a recession early next year. Demand is set to be weak, as high energy prices persist and winter has really just begun. Meanwhile, the jobs market is projected to remain tight for months, and thus inflation persistent, until new workers have been trained appropriately to reduce the mismatch between the skills required and those available.

Despite October's growth, it would take a significant turnaround in policymaking and/or global conditions to change the downward British economic trajectory."
Key events
Downing Street has rejected RMT general secretary Mick Lynch's call for a face-to-face meeting with Rishi Sunak, to help resolve the dispute over pay, jobs and conditions that is gripping the railways.
The Prime Minister's official spokesman said:
"We are not seeking to impose Government over and above either the independent pay review process or ongoing discussions between employers and the unions.

"We won't be changing the process."
Our Politics Live blog has more details on the UK's strikes:
The pound is shrugging off concerns about the UK economy, and is up 0.2% against the US dollar so far today at $1.228.
Sterling has managed quite a recovery this quarter, after hitting a record low at the end of September after the mini-budget.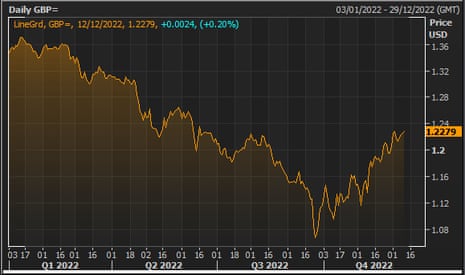 Ipek Ozkardeskaya, senior analyst at Swissquote Bank, says:
Cable rebounded almost 20% since the Liz Truss dip back in September, and could extend gains toward $1.30, not because the pound will do great thanks to a flourishing British economy, but because the US dollar is expected to depreciate in the coming months.

And as it is the case for the euro, the short-term direction for sterling-dollar is unclear, as the US dollar's move into and posterior to to the Fed decision will determine the next short term direction in Cable.
['cable' is City slang for the pound-dollar exchange rate, because the trade took place over a transatlantic cable between London and New York]
Great Britain's electricity system operator has stood down two coal-fired power stations that were put on emergency standby to keep the lights on amid a spell of cold weather.
As flagged earlier, the two coal units in North Yorkshire, owned by Drax, were put on notice that they could be needed to boost the UK's power network.
More here:
Businesses face an incredibly painful winter, warns James Watkins, head of policy and public impact at London Chamber of Commerce and Industry (LCCI):
"Businesses may be encouraged by a return to growth for October's GDP figures; however, the reality is that the economy is set to worsen for London's business community and the disruption in the run-up to Christmas will hit companies hard.
There's no route out of this economic slump without productive engagement between government and the private sector, Watkins adds:
Ministers must be prepared to engage with the London business community to review what further support it can provide to London in areas such as skills, productivity growth, and innovation to help kick start the national economy and pave the way to sustained economic recovery.

Businesses should not be made to suffer the consequences of an economic crisis they did not cause. The resilience of some London businesses can only hold for so long, especially during what is proving to be an incredibly painful winter."
2023 is expected to be an exceptionally tough year for the UK economy, warns Thomas Pugh, economist at audit and tax firm RSM UK.
He predicts the country is almost certainly already in a year-long recession, during which unemployment will rise by the end of next year.
Pugh says:
We expect a peak-to-trough fall in GDP of around 2.5%. That would be slightly smaller than the early 1990s recession and significantly less than the Global Financial Crisis.

We expect the unemployment rate to rise from the 3.6% it is now, to around 5% by the end of 2023, entailing job losses of about 200,000. Hospitality and retail sectors are likely to bear the greatest losses as consumers discretionary spending power shrinks.
The cost of living crisis could ease a little: Inflation is forecast to fall in comparison to 2022, but still average a (historically high) 7.5% over the whole year.
And interest rates will stay high, RSM UK predict, with the first cut not coming until 2024.
There are still 'strong downside risks' to UK growth in the last quarter of this year, warns Paula Bejarano Carbo, associate economist at the NIESR economic research institute.
NIESR predicts that UK GDP will remain flat in the fourth quarter of this year, Bejarano Carbo explains:
Despite survey data indicating that business confidence improved in November relative to the slump caused by the Truss government and its 'mini-budget', firms in all three sectors continue to have an overwhelmingly pessimistic outlook.

Elevated prices, interest rates and uncertainty, which continue to limit household and businesses spending, alongside supply-side issues like labour shortages and strike action, all bode poorly for UK economic performance in the fourth quarter of this year.

That said, we expect growth in the construction sector alongside the seasonal increase in consumption to result in GDP remaining flat in Q4.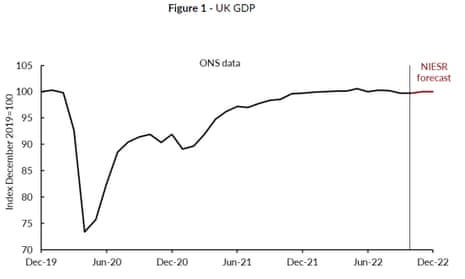 Analysis: UK recession looms despite one-month economic rebound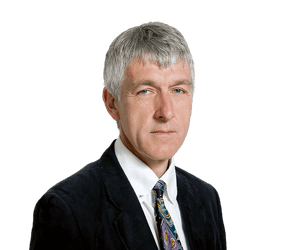 Larry Elliott
The economy is going to get worse before it gets better. That's Jeremy Hunt's assessment of the current state of the UK and few would quibble with the chancellor's judgment.
If ever there was a case of one swallow not making a summer, then the October growth report from the Office for National Statistics was surely it, our economics editor Larry Elliott writes:
Certainly, the economy expanded by 0.5% on the month, but that was mainly because of a bounceback in activity from September's 0.6% fall, when there was an extra bank holiday for the funeral of Queen Elizabeth II.
While bank holidays are good for some sectors of the economy – such as hospitality – overall the closure of offices, factories and building sites leads to lower gross domestic product.
Retailers had a better time of it in October, and there was a marked pickup in new car sales after a particularly weak September. Activity in the health sector also increased as the autumn vaccine booster drive continued.
A better guide to the underlying state of the economy is provided by the quarterly data, which showed GDP 0.3% lower in the three months to October compared with the three months ending in July.
This is hardly a surprise given the impact high inflation is having on household budgets and business costs. Weaker consumer spending and mothballed investment plans are the direct consequence of the sharpest annual price rises in four decades.
More here:
Today's fairly strong GDP reading for October will probably encourage the Bank of England's MPC to proceed with an increase in interest rates by 50 basis points this week, predicts professor Costas Milas of the University of Liverpool's management school.
He tells us:
Although November surveys point to weakening GDP since then, two other economic/financial readings are much more positive. First, the UK financial stress index (which monitors the volatility of bond prices, stock prices and exchange rates) is retreating. In fact, its December reading is quite low.

Second, the UK's policy uncertainty index has also gone down in December.

Given the historical importance of these two readings towards predicting UK growth, I expect the Bank's MPC committee to proceed with another round of interest rate tightening this week and then follow the "wait and see" approach during the first quarter of 2023.
The CBI are urging Jeremy Hunt to do more to calm the 'tough road' ahead.
Alpesh Paleja, CBI lead economist, says:
"As we approach 2023, the Government has a choice to make between action and inaction. The Prime Minister and Chancellor must use levers of growth not only to stem the severity of an upcoming downturn, but also to address the persistent weakness in investment and productivity.

We cannot afford to have another decade where both are effectively stagnant."
Industrial action could also weaken the UK economy this winter, warns Barret Kupelian, senior economist at PwC:
Removing shorter-term volatility shows UK GDP fell by 0.3% across all sectors of the economy, with the exception of construction, in the three months to October.

We expect this trend to continue, consistent with projections from the Bank of England and the Office for Budget Responsibility. This means that output is likely to revert to below pre-pandemic levels in the near future.

"Working days lost to industrial action could also potentially contribute to an additional slowdown in the future although the impact is not clear as new trends like working from home and changing consumer behaviours are likely to moderate some of the economic impact.

The ONS mentions anecdotal evidence from the accommodation, goods and logistic networks where an adverse impact was reported but also from the bus transport sector which have reported an increase in turnover."