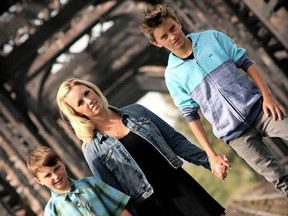 Article content
Tracy Stark, who wears a diamond ring on her right hand made from the ashes of her two murdered sons, has plans to help all Alberta families with an abusive parent.
Article content
"On Dec. 16, 2016, I lost my two sons Ryder, 13, and Radek, 11, to the hands of their biological father," says Stark.
Article content
"As I lay on their beds the morning after waking up to the reality that I would never see them again, I made a promise to them, that I would never let their young lives go unnoticed, nor why they are no longer here."
On that fateful Monday morning in December of 2016, Tracy and her husband Brent Stark travelled to Spruce Grove from their home in Whitecourt to check on the welfare of Ryder and Radek.
When they discovered the boys were absent from school and not answering their phones, the couple rushed over to her ex-husband's home to investigate.
"All I could see from a window was Ryder lying with his legs covered in blood," says Stark. "I screamed."
Article content
Neighbours called police, who found the boys had been shot dead by their biological father Corry MacDougall, who had then turned his shotgun on himself.
"At my sons' funeral, so many generous people donated money to our family, and unsure of what we wanted to do with it, we decided to put it in a holding fund with Whitecourt Minor Hockey," says Stark.
She was living in Whitecourt at the time and as primary caregiver, had been given permission for her sons to stay with their father in Spruce Grove for one school year to play a higher standard of hockey.
"The funding idea was a no-brainer," says Stark. "We would help Whitecourt families who needed a financial help-up to get their kids playing hockey. Hopefully, they would experience the keenness my boys had for the sport."
Article content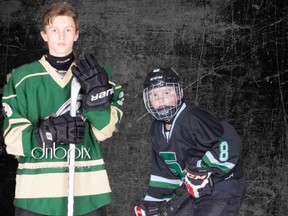 When Stark had asked her sons to move back to Whitecourt after signs of abuse at their dad's home in Spruce Grove, Ryder declined the offer.
"Ryder said his team gave him strength after his dad had done such things as taking him to Value Village and buying him a dress he was told to wear to hockey practise," says Stark. "When his coach asked him to remove his dress at practise, Ryder said he couldn't because his dad would be mad."
In a best-selling book Stark co-authored with friend and trauma specialist Sandra Young Kolbuc in 2019, Stark described leaving MacDougall in 2007, when Ryder was four years old and Radek one.
MacDougall, she wrote, had become "a very angry man," called her rude names and wanted to become the domineering force in their sons' lives. He would not sign divorce papers and ignored court orders.
Article content
After her sons' deaths, Stark created The R&R Memorial Foundation to help abused youngsters in Whitecourt.
"Family and friends never left our sides and countless messages and messengers got through to us," says Stark.
"I now live my life for my kids. Everything I do involves them. I tell people I am still a mom, I just care for my children differently.
"I do not get to see them every day, but I feel them. I do not get to watch them grow into fine young men, but I share their story and their lives with whoever will allow me to."
Stark and her businessman husband recently moved to Edmonton and say her mission is to take Ryder and Radek's memory and their work city-wide, then country-wide and later worldwide.
"We will help with not just hockey, but all sports, music and painting and many other forms of the arts," says Stark.
Article content
"I am just a small-town girl with a big-city attitude on a mission to bring awareness of what happened to my sons and give help to those who need it.
"Our organization is now called the R&R Empowering Society of Alberta and people are carrying our stickers and story around the world.
"My boys did not get to travel far. But I hope their spirits will travel widely with our stickers and many people will be motivated to help families experiencing violence. We have printed six thousand stickers and young cyclists seem to love putting them on their helmets."
The Starks and friends will host their first fundraiser in Edmonton Sept. 24 at Hart's Table & Bar, featuring Court Jester Dueling Pianos.
Ticket Info:  www.rnrmemorialfund.com/contact-us